Mascaro implemented SmartWork, a web and mobile-ready app, to automate its paper-based safety forms and processes, enabling greater control over accuracy and completeness. Great strides have been made to improve productivity both on the job site and in the central safety office through automation. Using SmartWork has given Mascaro personnel the confidence they need to ensure the right processes are taking place, and the forms are safely stored electronically for easy access in case of an audit or client request.
Company Background
As one of the largest contracting firms in Western Pennsylvania, Mascaro continues to grow while never forgetting its core value of "do the right thing." With numerous safety certifications and awards to its name, it is no surprise that Mascaro has sought ways to keep safety in the forefront, while simultaneously ensuring job site productivity.
Mascaro started using Predictive Solutions' SafetyNet application to automate its safety observation process in 2013. One of the HSE (health, safety, and environmental) managers, Jessica Read, was looking for a way to improve the time-intensive, paper-based process for Job Safety Analysis (JSA) and other required safety documentation. When Predictive Solutions launched SmartWork in 2017, Jessica, a dedicated safety advocate, knew that SmartWork's automation would help.
Challenges
It's a dirty job...
As an HSE manager for multiple job sites, one of Jessica's responsibilities is managing the JSA process for each site. Prior to using SmartWork, paper-based templates were completed by the frontline supervisor for each crew's scope of work. Keeping track of the outstanding forms and verifying that they were turned in was a big challenge. Once she received the forms, each had to be scanned and electronically stored for compliance and audit purposes. An additional challenge for Jessica was that forms were often returned dirty, torn, wet, or otherwise unreadable due to the construction environment in which they were created.
Help, I don't have any forms with me...
An additional challenge Jessica encountered was that the site foremen did not always have the necessary JSA forms with them at the beginning of the workday. Due to a project's size or geographical location, access to a printer or copier was not always available. Because the JSA had to be completed prior to work starting, this lack of form accessibility caused work start delays until the right forms could be hand-delivered to the site.
Uncertainty...
Because Jessica, like many HSE managers, is responsible for multiple sites at the same time, she could not always be there and had no way of knowing whether the JSAs and other forms were being completed. This was not only problematic from a company standards point of view, but there were often clients who required the JSAs and other safety documentation to be submitted to them at regular intervals throughout a project.
As Jessica explained, "I was getting documents back from the field and sometimes the forms were covered in mud or illegible. If we were to be audited, the documentation would be difficult to read."
Solution
SmartWork
SmartWork is a web- and mobile-based application that transforms paper-based safety processes so that organizations can manage progress and control alerts to achieve one ultimate goal — getting approval to start projects immediately and to get the work done safely.
The manual paper-based creation, completion, submission, and approval of JSAs, permits to work, and other safety forms can be a cause for project delays and cost overruns. In addition, maintaining the hard copy documents from various job sites creates an organizational challenge. SmartWork helps teams eliminate these problems by allowing them to quickly create safety forms like JSA/JHAs, permits to work, LOTO, and safety checklists and automates the approval process. Once created, the forms are readily available and accessible at even the most remote job sites.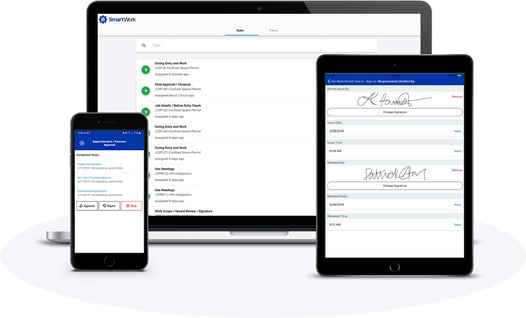 Results
When SmartWork was initially brought in, there were some cultural hurdles to overcome. While Mascaro is a technology-forward firm that was already using mobile apps in various functions, safety forms were completely paper-based. There was hesitation from the foremen, because they were used to paper forms and were not sure if an automated version could handle their unique processes and required information.
Jessica quickly demonstrated SmarkWork's value by starting with a few sites that had a lot of documentation requirements. After the initial pushback, adoption spread as the foreman quickly realized that the ease and accessibility of the electronic forms gave them more control over their safety processes and helped ensure the right forms were completed and turned in each day. For their JSA process, the job site crews were set up in SmartWork, and after each analysis, the crew members signed off electronically.
The foremen also loved that the forms were ready to use each morning. They did not have to go the central safety office to try to find them or worry that they would run out. Jessica appreciated that there would no longer be emergency form deliveries to the job sites, and she was now able to focus on higher valued responsibilities.
While the use of SmartWork is still spreading through Mascaro's other HSE managers and their job sites, the story has come full circle. Those initial foremen who were hesitant to use SmartWork are now requiring their jobsites to use this process. Requests to use SmartWork are now being received from foremen who have heard through word of mouth that the program makes managing their daily safety processes easier.
"One of my foremen was very against the electronic forms at first. However, when he ended up on another job site, he told the site HSE manager that SmartWork needed to be set up, because that way he was able to do everything from his phone or iPad. — Jessica Read, HSE Manager
Mascaro sites use SmartWork not only for JSAs, but for their daily huddles, hot work permits, and excavation checklists. From Jessica's perspective, as SmartWork use spreads they will continue to add new form types and processes into the application. The possibilities abound.
When asked what the major benefits of SmartWork are, Jessica explained, "One benefit is I always know that submitted documents are properly filled out, because there are mandatory fields in the form that must be completed prior to submittal. I know that if they're submitting the forms on SmartWork, they're submitting them properly."
Another benefit is I no longer worry about scanning, saving, filing, or making sure the forms are in the right place or making sure they are easily accessible, because there is a search by date option. If someone wants to see an excavation checklist for today's date because we had an excavation planned, I can search that date and see if one was completed. That is what makes it so easy."