In my past blog, "The Value of Safety Observations, Especially Safe Observations", I discussed collecting workplace safety observations – both safe and unsafe. What I wish to explore further is the structure of the safety inspection process that determines what observations will be collected. As information is gathered, this strategy should be frequently adjusted in order to successfully monitor risk and needs at a location or within a company.
The workplace safety inspection strategy should focus on the following questions: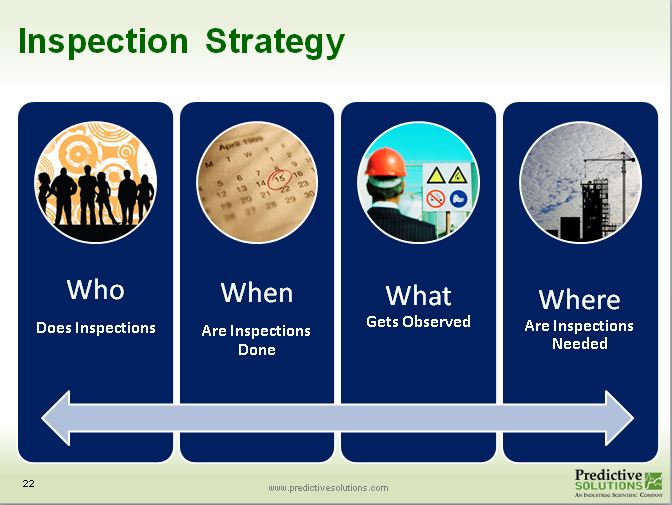 Who should be doing work safety inspections
The safety inspection strategy should define the expectations of who should be doing safety inspections. As detailed in the Predictive Solutions white paper, "Predictive Analytics in Workplace Safety: Four 'Safety Truths' that Reduce Workplace Injuries", the first two safety truths clearly identify the advantages of having many observers in the field looking at safety as well as the need to have a diverse team of observers. The safety team alone can't do it – a team approach is needed and is necessary to ensure a shared ownership of the safety process.
When should inspections be conducted to improve work safety
Once it is determined who will be doing inspections and making observations, the next step is to determine when this is done. Keep in mind that expectations on how many inspections and observations are done may vary by role. For example, you may have a site safety manager, several supervisors/superintendents, and a plant/project manager. We can set expectations so that the safety manager does three inspections a week, the supervisors/superintendents do one inspection a week and the plant/project manager does two inspections a month. This is great, however, it is necessary to monitor when these activities take place in order to ensure excessive overlapping does not occur. Here is an example of a case where there are several inspectors (red line) with a weekly requirement but many decide late on Friday to go out and do inspections, leaving considerable observation gaps during the rest of the week.
Keep in mind that an inspection is a snapshot in time – plan for when observations occur so that you don't lose an opportunity to capture valuable information. Examples for timing a good, focused inspection would be a critical crane pick, a confined space entry, when a new contractor begins work, or during an infrequently performed task.
What should be observed during the work safety inspection
Observations should be commensurate with the risk. What this means is do not focus on hard hats and safety glasses at the exclusion of higher risk activities such as Electrical, Fall Protection, and Confined Spaces. For example, if I had a roofing contractor on site doing work, I would both plan for and expect observations in fall protection. Specific hazards to be observed should be identified through a robust hazard identification process and supplemented with task specific assessments such as a Job Hazard Assessment (JHA).
What is also important is what is NOT observed. This is where the collection of safe observations will separate an average inspection process from an exceptional one. By assigning observations to specific categories (such as PPE) and subcategories (such as Safety Glasses), you should be able to track and trend what is observed the most and the least. For more information, please review this video: Safety Observation Patterns.
Lastly, 'what should be observed' must include the group that is observed. Observations should be linked to the creating contractor, department, crew, or job classification (e.g. Plumber, Electrician). This will allow you to develop historical trends for these groups as well as provide meaningful feedback instead of using the 'shotgun' approach of making an issue isolated to one group an issue to be addressed by all groups.
Where are inspections needed in the workplace
Most workplaces are extensive and complex. For example, a standard manufacturing facility could have an office, a point where deliveries are made, a garage for industrial equipment, a utility building, a warehouse, as well as the areas for the actual manufacturing activities. It is not likely or expected that each inspection that takes place will encompass the entire breadth of the location. Therefore, inspections should be linked to areas within a location. The strategy then should be to set expectations for how often each area is observed and what should be observed in each area. This same concept applies if a company has multiple projects separated by considerable distance. This will ensure you have the necessary visibility into all activities across the organization.
Each component of the safety inspection strategy is a unique piece of a puzzle. Observations that conform to the process are individual puzzle pieces that, when completed, provide a clear picture of the hazards and risk on a project. Having this insight and visibility will allow you to predict where issues are likely to occur. Taking proactive steps based on the data discovered will allow incidents to be predicted and then prevented before they occur.