Gilbane Building Company uses SafetyNet to integrate its safety risk management program with its insurance provider and reduces its workplace injury rate by 47%.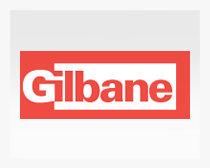 Gilbane Building Company, based in Providence, Rhode Island, is one of the largest privately held real estate development and construction firms in the industry. It is ranked #17 on the 2012 ENR 400 top contractors list. Proudly family-owned and operated since 1873, Gilbane was ranked by FORTUNE magazine as one of the "100 Best Companies to Work For" in 2011 – the third year in a row.
www.gilbaneco.com
Challenge
Since introducing Predictive Solutions' SafetyNet software system as an important component of its safety program in 2005, Gilbane has had great success in reducing workplace injuries and managing its safety risk management program.
However, its efforts were still disconnected from those of its insurance provider, who was working toward the same safety risk management goals, but through independent means. Particularly at the project level, risk engineers from Gilbane's insurer, and Gilbane's own environmental health and safety and project management teams, were often working independently, with little coordination, and thus felt less effective.
Gilbane's insurance provider was often marginalized as an outsider rather than a key partner. Both organizations felt that there had to be a better way.
Solution
In 2008, Gilbane started using Predictive Solutions' SafetyNet software to bridge this disconnect with its insurer. Both organizations began to work together on their safety risk management program. The two organizations collaborated on workplace safety inspections, reviewing and implementing the key findings from the advanced and predictive analysis of the inspection data, and communicating on and tracking corrective and preventive actions. This collaborative effort through SafetyNet became core to their injury prevention and safety risk management program.
Results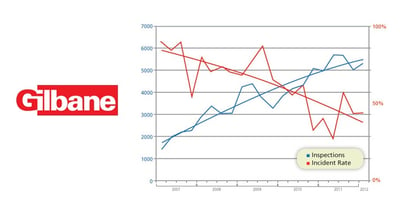 Over the next four years, Gilbane and its insurer were able to reduce its workplace injury rate by nearly 50% while achieving an EMR (Experience Modification Rate) nearly 60% better than Gilbane's industry average. Further, over 80% of Gilbane's projects experienced no recordable incidents and over 90% experienced no lost time incidents. Throughout its six years of using SafetyNet, Gilbane has increased its safety inspection and observation rate by 274%, fueling incident rate reductions as inspection quantity and quality has improved. More importantly, an increasing number of projects are achieving zero injuries.
Gilbane has been honored with CURT's (Construction User's Roundtable) highest safety award three times over the last six years – each year it has been eligible. These results were achieved through Gilbane's "Integrated Project Delivery" approach that collaboratively brings people and systems together to coordinate their injury prevention and safety risk management activities. Gilbane's insurer became a key partner in this effort.
"It took some strong commitment on the part of Gilbane's leadership to so closely involve our insurance provider in our SafetyNet program," says Tony O'Dea, Vice President of Safety at Gilbane. "Sometimes the information that comes from this program is not always flattering, but we know we have to address it in order to improve. We are absolutely committed to our Gilbane Cares safety culture and will do whatever it takes to send every employee home safe every day. Our insurer was equally committed to this goal, so it made perfect sense to create transparency and mutual accountability across our two organizations through SafetyNet."