This latest version makes it even easier to conduct job site inspections and collect workplace safety observations.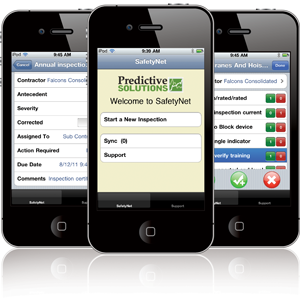 PITTSBURGH, PA, USA – 13 Jan 2015 – Predictive Solutions announced today that version 2.0 of the SafetyNet app is now available for download from the App StoreSM.
Since the release of the SafetyNet app for iPhone® and iPad® in 2011, customers have been using the app to easily upload inspection and observation data to SafetyNet – the leading workplace safety software for predicting and preventing workplace injuries. This new version includes several usability enhancements based on user feedback.
With the updated app, users can:
Access an entire safety inspection/observation checklist on one screen
Enter inspection/observation data with fewer screen changes and less scrolling
Edit photos to include drawings, notes and colored highlighting
Act upon visual cues that indicate severity levels
Configure the app as needed with more preference settings
To learn about other key features of the SafeyNet app and to download version 2.0, visit the App Store.