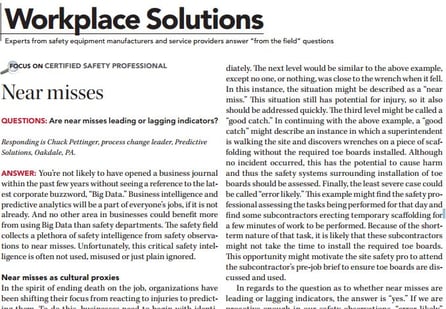 Publication: Safety & Health Magazine
Issue: September 2013
QUESTIONS: Are near misses leading or lagging indicators?
ANSWER: You're not likely to have opened a business journal within the past few years without seeing a reference to the latest corporate buzzword, "Big Data." Business intelligence and predictive analytics will be a part of everyone's jobs, if it is not already. And no other area in businesses could benefit more from using Big Data than safety departments. The safety field collects a plethora of safety intelligence from safety observations to near misses. Unfortunately, this critical safety intelligence is often not used, misused or just plain ignored. Read the full article here.