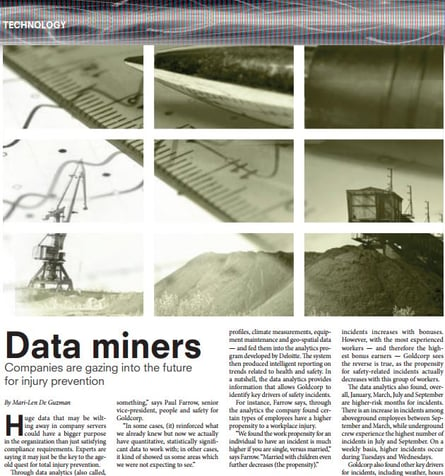 Publication: Canadian Occupational Safety Magazine
Issue: August 2013
Huge data that may be wilting away in company servers could have a bigger purpose in the organization than just satisfying compliance requirements. Experts are saying it may just be the key to the age-old quest for total injury prevention.
Through data analytics (also called, predictive analytics), some companies are finding good use for data gathered over a number of years in bringing injuries and fatalities down — which can only be good for the bottom line. Anything from safety-related stats (safety inspections, near-miss reports, losttime injuries) to broader corporate data (employee demographic, equipment maintenance reports, performance bonuses), data experts say all have the potential to produce great intelligence for safety applications.