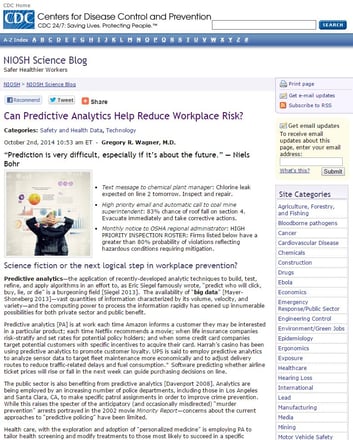 Publication: NIOSH Science Blog
Issue: October 2014
Science fiction or the next logical step in workplace prevention?
Predictive analytics—the application of recently-developed analytic techniques to build, test, refine, and apply algorithms in an effort to, as Eric Siegel famously wrote, "predict who will click, buy, lie, or die" is a burgeoning field [Siegel 2013]. The availability of "big data" [Mayer-Shoneberg 2013]—vast quantities of information characterized by its volume, velocity, and variety—and the computing power to process the information rapidly has opened up innumerable possibilities for both private sector and public benefit.
Predictive analytics [PA] is at work each time Amazon informs a customer they may be interested in a particular product; each time Netflix recommends a movie; when life insurance companies risk-stratify and set rates for potential policy holders; and when some credit card companies target potential customers with specific incentives to acquire their card. Read the full article on the CDC - NIOSH Science Blog