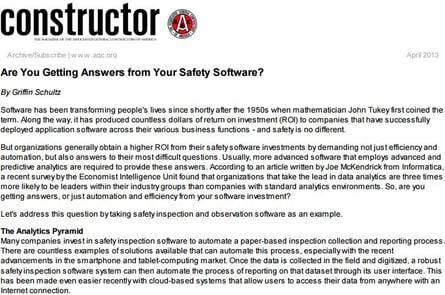 Publication: Constructor Monthly
Issue: April 2013
Software has been transforming people's lives since shortly after the 1950s when mathematician John Tukey first coined the term. Along the way, it has produced countless dollars of return on investment (ROI) to companies that have successfully deployed application software across their various business functions - and safety is no different.
But organizations generally obtain a higher ROI from their safety software investments by demanding not just efficiency and automation, but also answers to their most difficult questions. Usually, more advanced software that employs advanced and predictive analytics are required to provide these answers. According to an article written by Joe McKendrick from Informatica, a recent survey by the Economist Intelligence Unit found that organizations that take the lead in data analytics are three times more likely to be leaders within their industry groups than companies with standard analytics environments. So, are you getting answers, or just automation and efficiency from your software investment?